BIONOVA X
CELLINK lanseaza noul BIONOVA X! Mai multe informatii pot fi gasite in postarea de mai jos: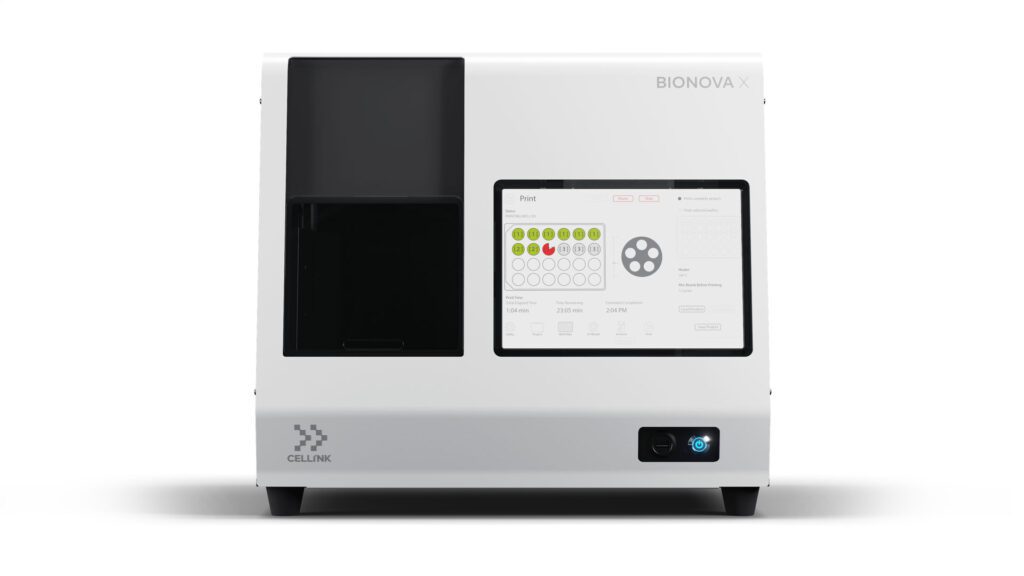 Unleash the power of light printing
Designed with usability in mind, the BIONOVA X enables high resolution live cell printing, a new frontier in light-based 3D bioprinting.BROCHURE

Direct in well printing
For the first time ever, bring the power of DLP 3D bioprinting directly to multi well plates, up to 24 wells, ideal for high throughput applications.

Unmatched resolution
With 10μm feature resolution the BIONOVA X is the most accurate DLP 3D bioprinter available. Effortlessly model microarchitecture, vasculature, and complex geometries.

Fast became faster
Utilizing a patented continuous printing technology the
BIONOVA X possesses unparalleled speeds without
sacrificing print fidelity.
From medical images to 3D models, develop personalized constructs

Intuitive workflow and setup

Leverage biocompatible materials that promote cell proliferation
Technical specifications
3D Bioprinting technology ​
Direct in-well layerless printing with digital light projection-based technology ​
Printing resolution (XY) ​
10 μm ​
Z-precision (motor driven) ​
4 μm ​
LED wavelength ​
405 nm ​
Intensity range ​
4- 16 mW/cm2 ​
Heater temperature ​
Room temperature to 60 °C ​
Well plate format ​
24 well plate, 12 well plate, 6 well plate ​
Build volume ​
24 well plate ​
63.6 mm2 (Ø 9 mm) x 6.5 (Z) mm ​
12 well plate ​
9.0 mm (X) x 9.0 mm (Y) x 9 mm (Z)​
6 well plate ​
19.2 mm (X) x 10.8 mm (Y) x 9 mm (Z)​
Display ​
10" touch screen, glove friendly ​
Connectivity ​
1x USB port (type A) ​
Software ​
On-board software ​
Support file types ​
.stl, .png, .bmp, .jpg ​
Sterility ​
UVC sterilization of chamber (270+-10 nm) ​
Dimensions ​
20.3" (W) x 15" (D) x 17.4" (H) ​515 mm (W) x 380 mm (D) x 441 mm (H) ​
Weight ​
90 lbs (41 kg) ​
Power supply input ​
100-240VAC, 50-60Hz, 200W ​